Providing Care You Need
CFC is committed to caring for the under-resourced members of the community regardless of their income or insurance coverage. We offer high-quality healthcare to those who do not qualify for any other programs.
Due to the enormous demand and our limited resources, there may be instances where a patient is referred to another clinic or program. CFC is proud to partner with many organizations whose priority is the health and well-being of every member of the community.
A Note on Our Pharmacy
We are trying to limit the number of refills we provide through our in-house pharmacy and instead send refills to pharmacies that are convenient for you. We can provide coupons to reduce the cost of many commonly prescribed medications. If you are having trouble affording the cost of your medications, please let us know and we can discuss providing refills through our in-house pharmacy.
Please note that we do not accept walk-in patients for medication refills. Please call the Columbus Free Clinic before you run out of medications so that we can send them to your preferred pharmacy.
Address
2231 North High Street Columbus, OH 43201
Operating Hours
Thursday Evenings
5:45pm to 10 pm by appointment
Our services are available to everyone free of cost regardless of insurance or documentation status.
When You Should Arrive
Please arrive for your appointment 15 minutes early for paperwork and check-in.
What You Should Bring
A list of your current prescription medications as well as any over the counter medications and supplements (vitamins, herbs) you use. Be sure to include the name and dose of your medication, and how you take your medicine (when, how many, how often).
Any forms that need to be filled out by a doctor (for example for work).
Parking
Please park in a spot labeled "reserved for Rardin patients" in the lot behind the clinic to avoid getting a parking ticket. If there are no reserved patient spots available, please let the check-in desk know upon your arrival and they will assist you.
What To Expect
CFC is a student-run clinic. You will be seen by students throughout your visit, but all treatment and follow up recommendations will be directed by licensed healthcare professionals. You will be taken to your room by a medical student who will do an initial assessment and will report to the licensed provider who will provide your care. CFC integrates social work/behavioral health, pharmacy, and lab services at every clinic night, and you should expect to talk to students/licensed providers from.
Patient Satisfaction Survey
If you have used our services, then please take our Patient Satisfaction survey. It will only take a few minutes of your time and your valuable feedback helps us improve the services we offer.
Report an Incident
If you witnessed an event that you believe requires/needs review or investigation, please click the button below and fill out the form it links to. Your report is completely anonymous.
Patient Rights and Responsibilities
Access to Medical Records
You have a right to access your medical record when requested and for your medical records to be shared only with your consent or as required by law.
Autonomy
You have the right to make medical decisions in your best interest.
Chaperone
You have a right to have someone present in the treatment room, in addition to the staff providing treatment.
Consent to Treat
You have the right to know and understand what you are being treated for and all options available, except in the event of a medical emergency. You can deny any treatment or drug after hearing the consequences of using that respective procedure and/or drug. Upon entering the clinic you will sign consent forms for treatment.
Disclosure of taking pictures
You have a right to expect that any pictures taken in regards to your care will be protected like any other protected health information.
Identity of providers
You have a right to know the role and identity of all students and providers who you see in the clinic.
Interpretive Services
You have the right to have medical information about yourself communicated in a language of preference via a licensed medical interpreter (Martii/ OSU interpretive services).
Privacy
You have a right to privacy during treatment and protection of your protected health information (PHI). Your information will only be shared with your approval or within the necessary means for treatment at our facility, our referrals, or with other providers you see for medical care.
Right to Report Concerns
You have a right to report any concerns from your experience at the clinic without receiving any backlash, discrimination, or unreasonable interruption of care.
Respect for beliefs
You have a right to be treated with respect regardless of culture, personal values, religion, and preferences with the expectation that providers should have an understanding of those values.
Respectful care
You have the right to be treated with respectful care from providers without abuse or inappropriate care.
Safe and Clean Environment
You have a right to be seen in a safe, secure and clean environment.
Standard of Care
You have a right to receive the standard of care from providers and from those in training based on their responsibilities within the capabilities of our free clinic regardless of any bias towards your culture, personal values, religion, and preferences.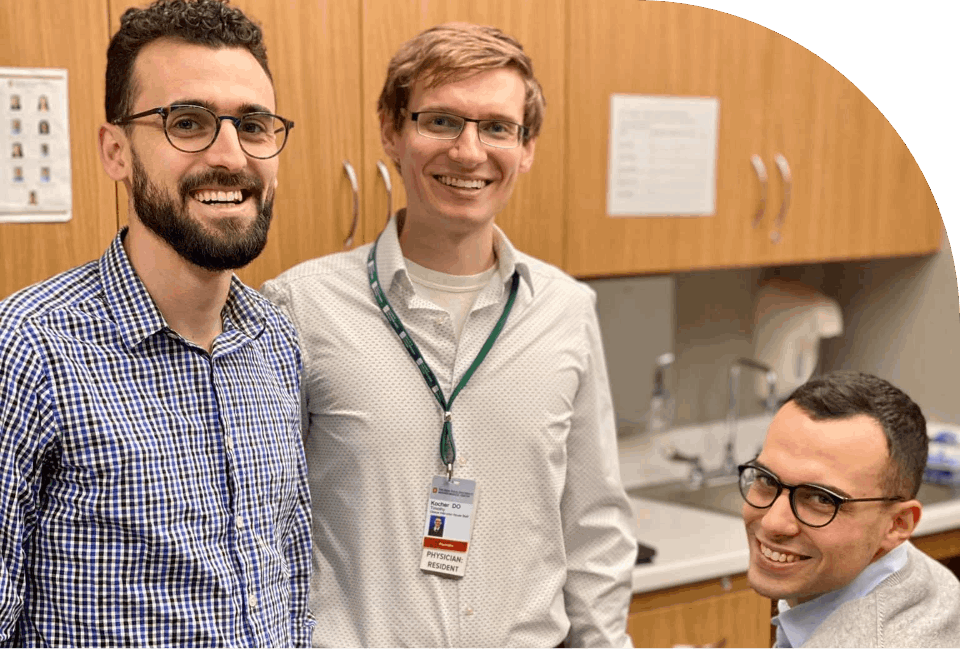 About CFC
Here you can meet our board members, sponsors,
supporters, and volunteers both past and present.