Professionals Providing Care for Our Community
Would you like to volunteer at CFC? Read descriptions of the various roles available as well as testimonials from both current and former volunteers.
Providers
Physician and APP volunteers at the CFC provide healthcare for patients from every zip code in Franklin County while also teaching and mentoring students
Providers staff students who have already seen the patient. They guide the student to refine taking the patient's history and creating both an assessment and a plan
Providers work at their own pace and can take their time caring for the patient and teaching the students
Providers have the support of an experienced lead physician, and work closely with pharmacists, licensed behavioral health providers, and a social work team in clinic.
Time spent documenting is minimal as students write notes and enter orders
Providers receive Charitable Immunity in the state of Ohio and cannot be sued when caring for uninsured patients
Arrival and departure is flexible and even two hours of time is valuable to patients
Medical/Nursing/PA Students
True to our mission to be an interdisciplinary education-focused student run clinic, CFC has multiple volunteer opportunities for medical (MD and DO), nurse practitioner, and physician assistant students.
Student triage volunteers are provided with many opportunities to work with and learn from physicians, APPs, social workers, dieticians, and various other healthcare providers
Student triage and Social Work volunteers are given the option to volunteer in both telehealth and in-person clinics (general and speciality)
Student triage volunteer roles and responsibilities:

Triage: vitals – BP, pulse, height, weight, etc.
Patient interviews – gain comprehensive understanding of history of present illness and past medical history
Presenting to healthcare providers – working cohesively with providers to create and assessment and plan for patients
Writing effective notes and charting
Please reach out to our Volunteer Coordinator, Stephen Sansoterra, at Stephen.Sansoterra@osumc.edu if you have questions about graduate student volunteering at the Columbus Free Clinic.
Residents
Resident physicians from OSUMC and Ohio Health Riverside Methodist Hospital are also regular volunteers at CFC. Our residents come from many specialities, including internal medicine, family medicine, and emergency medicine.
Resident physicians from OSUMC and Ohio Health Riverside Methodist Hospital are also regular volunteers at CFC. Our residents come from many specialities, including internal medicine, family medicine, and emergency medicine.
Resident volunteering is one of the educational highlights of CFC. Their contributions to the education of both undergraduate and graduate medical/ nursing/PA students is paramount.
Residents receive Charitable Immunity in the state of Ohio and cannot be sued when caring for uninsured patients.
CFC provides opportunities to residents to gain experiences in a community health setting and creates an environment that allows them to hone their teaching skills to teach a wide array of students at different levels of their medical training.
Resident physicians are also able to work under and learn from the mentorship of attending physicians.
Please do not hesitate to reach out to our Volunteer Coordinator, Stephen Sansoterra, at Stephen.Sansoterra@osumc.edu, should you have any questions about resident volunteering at CFC.
Undergraduate Students
We have multiple volunteering options for undergraduates or community members looking to serve:
General Clinic Volunteers
The application review process is currently on-going and decisions regarding interview invites will be sent out as soon as possible.
These roles assist with operations of the general clinic on a weekly basis and include the roles of patient intake, registration, appointment confirmation, electronic medical record input, and more.
Have direct patient interaction.
This position has virtual and in-person roles!
Steering Committee Assistant Volunteers
We are currently seeking applications for Steering Committee Assistants. If you are interested, please fill out our application. The application will be open until Sunday, February 26, 2023 at 11:59 PM.
These roles assist medical students in their various steering committee roles. The tasks include (and are not limited to): assistance with electronic medical record keeping, clinic operations, specialty clinics, lab, referrals, research, and more.
There are leadership and shadowing opportunities available for volunteers that have served for at least a year in the clinic.
Undergraduate volunteers are selected once yearly via a formal application process in January. Due to sheer volume of volunteer interest, CFC only accepts new volunteers on an annual basis each February.
Please reach out to our Undergraduate Volunteer and Patient Satisfaction Coordinator, Lindsay Friedman, at lindsay.friedman@osumc.edu if you have questions about undergraduate student volunteering at the Columbus Free Clinic.
Announcement #1: Applications for all undergraduate general clinic volunteer positions have closed for 2023. They will re-open next Spring (2024).
Announcement #2: Applications for steering committee assistant volunteer roles will be opened later this Spring (2023). Please stay tuned for details, and contact lindsay.friedman@osumc.edu with any questions.
What Our Volunteers Are Saying
Sumerya Selbes
Undergraduate Student
Throughout my volunteering at CFC, I learned the importance of collaboration and altruism when it comes to providing care to medically underserved and uninsured communities. When I had the chance to shadow a provider who had been volunteering in the clinic for over 25 years now, I was impressed by the caring, compassionate, and non-judgmental way that she used to approach her patients. Advocating for these patients and connecting them to right resources has been such a fulfilling and educational experience for me.

Caitlyn Hull
APRN-CNP
Volunteering with CFC allows me to help patients who otherwise may not have access to healthcare services. In the GYN clinic, we often get to teach students to do their first women's health exams.  I love seeing a student's excitement to learn and helping our patients through some challenging discussions. I get to practice skills that I otherwise may not use in my professional role and continue to learn as well!

Courtney DuBois Shihabuddin
DNP, APRN-CNP
I began volunteering at the free clinic in November 2019 after joining the College of Nursing faculty. I truly love teaching, and being able to precept nurse practitioner, medical and physician associate students was just an added bonus. I continued to volunteer almost weekly and was invited to join the board in 2020. I volunteer every Thursday, either in person or via telehealth, and truly enjoy not only providing care for our patients, but helping our students grow and develop into competent healthcare providers.
Courtney DuBois Shihabuddin, DNP, APRN-CNP is an assistant professor of clinical nursing at The Ohio State University College of Nursing. She has been volunteering with the Columbus Free Clinic since November 2019.

Kandi Hughes
CNP
I volunteer with the CFC because after retiring from the military it is one of my ways to continue to serve my community. There is satisfaction of knowing you can make a small difference every Thursday in the attitude/health of the citizens of Columbus that we serve.
Kandi Hughes, CNP, started with CFC September 2021.

Rob Stahler
PharmD
Pharmacy services continue to be a cornerstone of quality healthcare, and at the Columbus Free Clinic, we aim to provide the same level of healthcare to the community of Columbus. It is through the hard work and dedication of our Pharmacists and the generosity of The Ohio State University Wexner Medical Center's Pharmacy Department that allow our student-run clinic to provide quality services to our community.

Anne Botti
MD
I have been volunteering at the Columbus Free Clinic off and on since 2005. As I reflect over the past sixteen years of working at CFC, I am struck by how much the clinic has grown and changed. It is a special place, staffed by diligent workers who graciously volunteer their time and talents. I never fail to be rejuvenated and inspired after working a shift at CTC, reminded of the reasons I went into medicine in the first place.

Ean Bett
MD
When I began volunteering at CFC as an intern during my Family Medicine residency, I was hoping to continue expanding my clinical knowledge and skills while focusing on improving my teaching for students and patients alike. Over the course of the subsequent six years, I have had the incredible please to work with students from all the allied health professions and have seen hundreds of our community members as patients with them.

Alexis Barnes
MD
I am constantly impressed with the students who take time out of rigorous course work and clinical rotations to show up and take care of those in need every week. CFC provides a place for these future doctors to learn the fundamentals of medicine as well as communication skills with a diverse group of patients. The enthusiasm for medicine, learning, and most importantly, the patients that all of our students hold is what gives me faith in the future of medicine.

Hank Clark
PharmD
The team of Columbus Free Clinic is comprised of some of the most passionate and hardworking individuals I have ever met. Each member of the team demonstrators the utmost eagerness and professionalism to provide high quality care to our patients. The opportunity to serve and expand healthcare, specifically medication access, to the underserved Columbus population has been nothing short of amazing.

Andre Fernandes
PharmD, MS, BCPS
Volunteering with the Columbus Free Clinic the past two years has easily become one of the most rewarding experiences I have had throughout my career. Not only did I have the opportunity to touch the lives of my patients by working with our providers to recommend optimal drug therapies, but I was also able to help mentor pharmacy students who were eager to learn.  Every day in the clinic reminded me of why I became a healthcare provider and how much it means to care for those who truly need help.

News
Here you'll find our quarterly and annual reports, updates on our programming as well as posts from our clinic's professionals.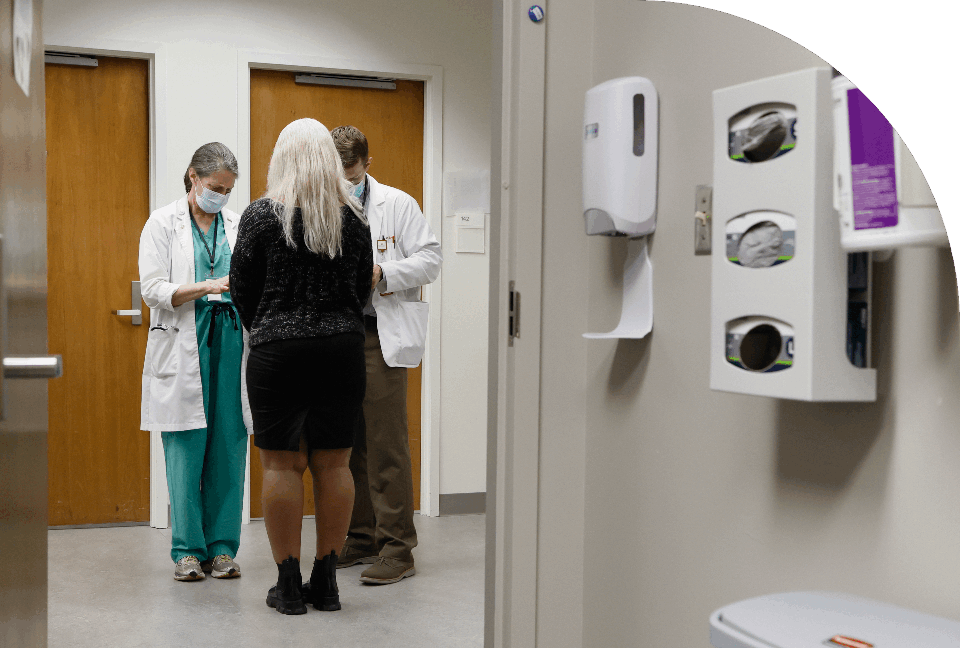 About CFC
Here you can meet our board members, sponsors,
supporters, and volunteers both past and present.